Avoid Expensive Engine Damage
With Australia's No.1 Selling
Engine Protection Monitor
TM-2 Engine Watchdog
Have one delivered straight to your Door NOW!
INEXPENSIVE ENGINE PROTECTION UNITS that will SAVE YOUR Car, Truck, Marine & Stationary Engine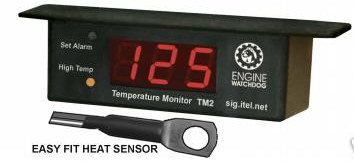 Engine Protection Since 1982

Introducing the TM-2 ENGINE WATCHDOG 'EASY FIT' electronic engine temperature sensor.

The 'EASY FIT' electronic temperature sensor can rapidly detect ALL ENGINE OVERHEATING caused by both COOLING SYSTEM or OIL SYSTEM FAILURES.


The sensor takes just seconds to fit under any convenient bolt that is near the heat source. By not breaking into the cooling system in any way you will not risk your engines warranty or longevity from faulty installation or electrolysis.


All TM-2 Engine Watchdogs are supplied with the 'Easy Fit' engine temperature sensor.


Aftermarket Engine Temperature Gauge with a built in ((( Audible ))) Engine Overheating Alarm & Light.


Great value TEMPERATURE AND OIL protection for ALL Car, Truck & Marine Engines.


TM-2 Engine Watchdog is an ideal aftermarket engine temperature gauge and audible overheating alarm, that will prevent premature and costly car engine replacement and engine rebuilds. The TM-2 Engine WatchDog detects ALL car coolant system problems that are the causes of car engine overheating, including engine coolant leaks and heat build up from poor oil pressure. It will quickly warn you with a LED warning LIGHT and internal BUZZER if any abnormal engine overheating occurs long before it does damage.


The LED digital engine temperature gauge with its built in audible alarm mounts in the cab, while the 'Easy Fit' engine temperature sensor fits in seconds to the engine


Externally mounted, Very Loud Mini Sirens are available for noisy machinery, Siren must be ordered with the unit. Siren Price, plus $20 Aust.


The TM-2 Engine WatchDog comes complete with an installation kit and simple fitting and operational instructions. It suits 12 or 24 volt systems and is fully reverse polarity protected ( you won't blow it up).


To set the alarm, you simply read the highest car temperature on the display and then just set the alarm temperature a few degrees higher using the push button on the front panel. It simple and it works!


Wiring your TM-2 Engine WatchDog to your existing OIL DASHBOARD WARNING LIGHT SENDER (not a oil gauge sensor), will make your oil light into an Audible Oil Pressure Warning Light . Should you lose engine oil pressure the buzzer will alarm. If you want this option and only have a gauge, you will need to fit an inexpensive car type oil pressure light sender to your engine.
OUR UNITS are CUSTOMISED by the factory with 6M heatsheilded wire on the Sensor lead so you have enough distance to use it in a boat or mount the sensor anywhere in the bonnet - normally they only come with 4M. We can supply longer if requested at time of purchase as not additional cost.

GET YOUR TM-2 Engine Watchdog TODAY
and start protecting
your investment the way it should be
protected.
Engines cost thousands to rebuild and
hundreds of people get caught out daily.
A TM2 Engine Watchdog is inexpensive,
lasts for life and we
GUARANTEE
you will never regret buying it!
Click here to BUY NOW at our on-line store
Loud Alarms – Optional externally mounted alarms are available for noisy environments at a small cost; email us with your requirements and for pricing.
Compact size ( less mounting tabs ) 80x30x60mm. ( 3.2" x 1.2" x 2.4" ) Standard lead length 4m ( 13ft ) or they may be ordered to size at no extra cost for boats and farm machinery. Max Temp 125C ( 255F )
This unit has been designed for Cars, 4WD's and Boats. Whilst the Display is sealed - it is not designed to be mounted externaly on a jetski which is receiving water spashes at high speed - hence why we install the display inside our water tight gloveboxes on out jetski's. Although it has not happened yet, Warranty would not cover a unit that has been filled with water, so we reccomend if installing yourself, you pick a spot that is protected from being submerged in water.

-------------------------------------------------------------------------------

Here's the fitting instructions for the TM-2 Engine Watchdog showing how easy it is to install the sensor...

'EASY FIT'
TM-2 Engine Watchdog TEMPERATURE SENSOR LOCATION

Mount the sensor in a convenient location where it will reflect the engine temperature correctly, or as near the heat source as possible. In this example we are monitoring the engine block temperature, so a tappet cover bolt has been chosen. To use the sensor as a engine cooling system monitor mount the sensor under a thermostat housing bolt.

The SENSOR HOLE size is 10mm ( 3/8")

Slip the heat sensor under the bolt and replace the bolt to its original position and tension.

IT'S THAT EASY! No possibility of car coolant leaks or electrolysis.

Secure the lead so there is no possibility it will be damaged, use the spiral wrap provided if required. If possible, avoid running the sensor lead right next to sparkplug leads, the coil or distributor.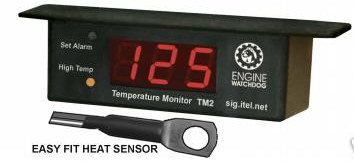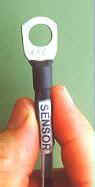 Click here to BUY NOW at our on-line store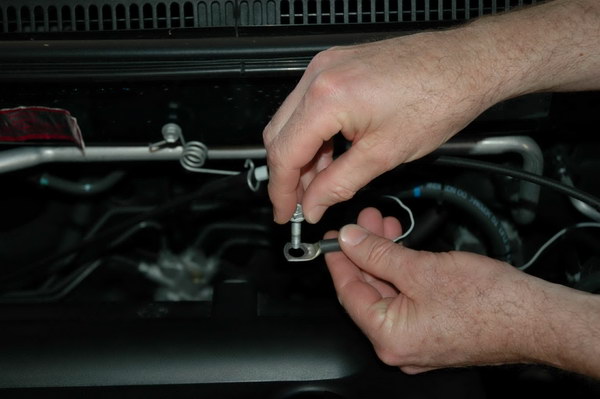 Click here to BUY NOW at our on-line store
Setting the alarm
To set the alarm temperature you don't need to know your engines temperature specifications, you simply read the engines highest normal operating temperature on the display and then set the alarm a few degrees higher. It's that simple!
Mounting the sensor
The 'Easy Fit' temperature sensor fits under any convenient bolt on either the engine block, where it directly monitors the engines metal temperature, or to the cooling system where it monitors the coolant temperature.
Fitting requires no specialise knowledge and it will not cause leaks, electrolysis or affect your engines warranty in any way.
TM2 specifications and features.